Since the beginning of the war in Ukraine, the YouCare Association has been committed to saving lives in the country. Between sending pallets full of food and repatriating animals to France, the daily life of the YouCare Team is very busy.
Important information:
To make a donation: YouCare Association 25 rue Aristide Briand 92300 Levallois, Monday to Friday from 9am to 5pm
To help financially this operation: https://www.helloasso.com/associations/association-youcare/collectes/ensemble-sauvons-des-vies-en-ukraine?fbclid=IwAR1L2urI7A7W 8ww diFTRxCONhUXkx9oCXYIuyjVJezyzAaJ-K7uVSjOas3c
March 2, 2022
We are launching a food drive for animals in Ukraine. On social networks, the announcement of our collection is shared by thousands of people. All of the companies that are members of the 1% For Animals Label are responding to the appeal by sharing our initiative and participating by sending important donations. At the same time, we are launching with the City of Levallois a local collection allowing the inhabitants to help the Ukrainian animals. The very next day, our offices are filled to the brim! Dog food, cat food, puppy or kitten food, donations are pouring in. Donors are very generous.
At the same time, we are opening an online kitty to finance the costs of transportation to Ukraine. Within 24 hours, we managed to collect more than 2,000 euros in donations.
To participate to the kitty, it's here: https: //www.helloasso.com/associations/association-youcare/collectes/ensemble-sauvons-des-vies-en-ukrainefbclid=IwAR1L2urI7A7W8w wdiFTRxCONhUXkx9oCXYIuyjVJezyzAaJ-K7uVSjOas3c
March 3, 2022
The Datcha Association with which we are in contact, asks us for help to evacuate a Moldavian refuge wanting to prevent a war on the territory. The team presents us 5 of their little protégés. It's decided, Salsa, Martin, Sunny, Sonia and Sham are the first animals that we are going to collect! They will be repatriated to France in a few days. In the meantime, we select their future host families.
March 5, 2022
The first truck leaves for the Polish-Ukrainian border with 800 kg of animal feed on board. This expedition is organized in collaboration with other associations delivering humanitarian material. On site, the Centaurus Foundation, an animal protection association, is in charge of the redistribution.
This first delivery was made possible thanks to the help of a Levalloisienne Dora from the company Bella'dress.
March 6, 2022
We received a donation of 3 pallets of dog and cat food from My Pet Agency.

March 7, 2022
We received a donation of 1 pallet of Mastery cat food from the Zolux Group.

March 8, 2022
We received a donation of 2 pallets of cat and dog food from theonline pet store Wanimo.

March 9, 2022
We received a donation of 2 pallets of dog food fromChats Nos Chiens pet store.

March 9, 2022
We received a donation of 3 pallets of food for cats and dogs from thepet store Médor et Compagnie.

During the week of March 7 to 13, 2022
We continue to receive many donations. We receive so many of them that we run out of space to store them. For this purpose, a nearby residence agrees to lend us its yard to store the pallets of donations. These large scale arrivals and the continued financial donations, allow us to start organizing a second delivery to Ukraine.
March 8, 2022
Lisa, the president of our partner association Les 3 Dindes, presents to Thomas, our president, her project to go to the border between Ukraine and Poland with a semi-trailer to deliver several tons of food collected in Montauban.
YouCare Association then offers to fund all gas and toll costs for the expedition. The truck is generously lent by Mercedes.
The weekend of March 12 and 13, 2022
YouCare Association is at the Paris Animal Show. On this occasion, with the help of our three partners Zolux, Francodex and the event team, we are organizing a charity event for the animals in Ukraine. Thanks to a charity raffle, in just two days 25,235 meals were donated to Ukrainian animals thanks to the generosity of over 600 donors! On the spot 45 volunteers took turns to manage this charitable operation.

March 13, 2022
The Association Les 3 Dindes loads the truck.
March 14, 2022
The Association Les 3 Dindes leaves for a long journey of 6 days with 25 tons of donations on board.

March 16, 2022
We are preparing the ten or so pallets that will leave in two days for Ukraine. They are wrapped, taped and our YouCare labels are attached. Thanks to this convoy, 6 additional tons of food will be shipped. The Association AVA, Agir Pour La Vie Animale, helps us by financing half of the shipping costs.
That same day 12 pallets arrive at the international shipping hub to be sent to a secure warehouse in Poland in the city of Rzeszow.
March 17, 2022
The 3 Turkeys Association delivers 25 tons of food to Poland. This convoy is financed by the YouCare Association and the truck is on loan from Mercedes.
Lisa, the President of the 3 Turkeys and her team recovered 9 abandoned Ukrainian animals and offered to take care of 7 of them: 4 cats and 3 dogs. We don't have much information about them yet, but we know that we will get them back on Saturday the 19th by going to meet the 3 turkeys convoy in Dijon. We are now looking for foster families who can take them in while we find their adoptive families.
March 18, 2022
The animals taken care of by Les 3 Dindes and the 5 Moldavian cats coming through the Datcha Association will arrive at YouCare at the same time. We will take care of 12 animals that day with our host families. The cost of repatriation of Moldovan animals is 200 € per animal. This repatriation is financed thanks to the kitty launched by our association.
To participate to the kitty, it's here: https: //www.helloasso.com/associations/association-youcare/collectes/ensemble-sauvons-des-vies-en-ukraine?fbclid=IwAR1L2urI7A7W8w wdiFTRxCONhUXkx9oCXYIuyjVJezyzAaJ-K7uVSjOas3c
March 19, 2022
In the morning, Thomas, our President, goes to Dijon by truck to collect the Ukrainian animals repatriated by the Association Les 3 Dindes. Cooper, Rox and Rouky, Léon, Jaz, Oups and Berlioz are installed in the truck, direction Levallois-Perret! When they arrive at YouCare, their host families are waiting for them. Equipped with their bags containing the necessary material to welcome them, they are ready to host them! This first convoy arrives around 1:30 pm.
Most of the animals are traumatized by what they experienced there. This is the case of Rox and Rouky, two small inseparable dogs who accept, for the moment, almost no contact with humans. Huddled together, we have difficulty approaching them. Nevertheless, each animal goes back to its foster family. Around 5:00 pm, the second convoy arrives, with about 40 animals. We take five, the others are hosted by other associations. At the end of the day, the 12 repatriated animals arrived in their foster homes.
March 21, 2022
BFMTV publishes a report on our survivors.
That same day, the veterinary visits begin for our survivors. The Association AVA, Agir Pour La Vie Animale participates in this rescue by offering us the veterinary fees for all our protégés. Visits will be made in the Clinique du Pont de Neuilly thanks to the support of Dr. Bedossa.
The March 22, 2022
Veterinary appointments for repatriated animals continue. Today, it's Leon's turn, now Lony. Indeed, it turns out that it is a female! Lony is healthy and well chipped.
March 23, 2022
Mr. Jeanbrun, President of the IDF Rassemblée group, spoke at the Ile-De-France Permanent Council about the work of the YouCare Association in Ukraine.
The March 25, 2022
The 12 pallets filled with animal food, which left on March 18, have arrived in Poland.

The March 26, 2022
We receive a donation of 5 pallets of anti-parasite collars from Francodex Laboratories for abandoned animals in Ukraine.

The March 28, 2022
The association AVA delivers us 1 ton of croquettes to send them to Ukraine.
The March 31, 2022
A third delivery is going to the international warehouse in Seine-et-Marne, to be sent to Ukraine. This convoy contains several tons of food for animals but also pallets filled with hygiene products and first aid for humans.
April 1, 2022
The Gostomel Shelter in Ukraine, a suburb of Kiev, receives a first donation of 9 pallets of food and medical supplies.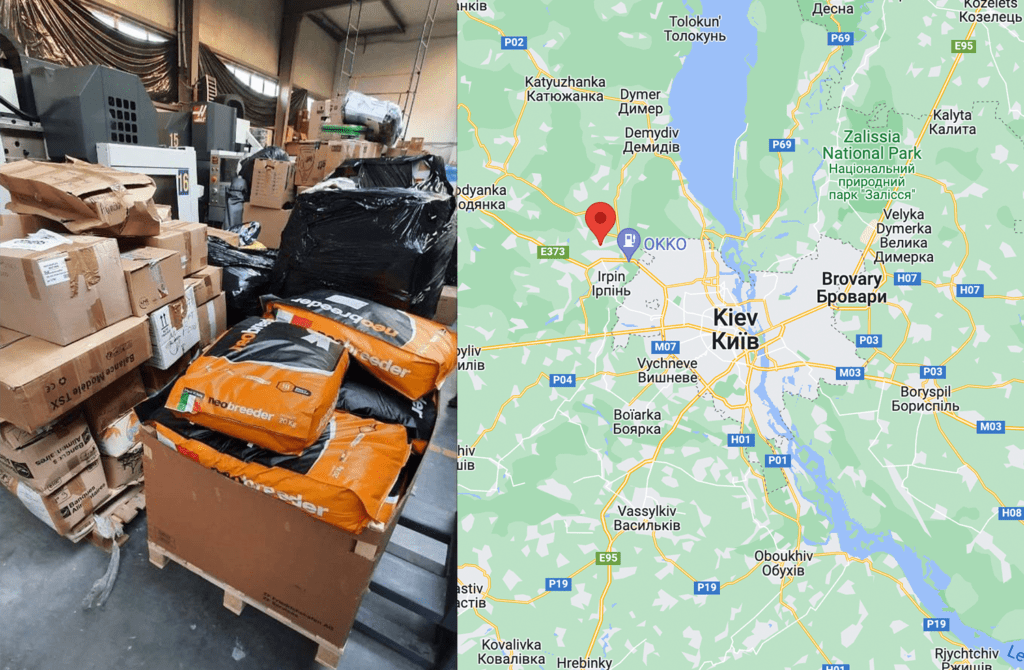 The April 19, 2022
One month after their arrival in France, all repatriated animals have their veterinary surveillance appointments. Fortunately, our little protégés are all in good health, except for a few minor injuries such as ear scab. We took the opportunity to have some of our female kittens like Lony and Oops spayed or neutered.

During the week of April 18 to 24, 2022
It's been almost a month since our animals from Ukraine arrived on the French territory. In their host families, they are becoming more and more comfortable. Some are more affectionate, some more playful, some more shy and need their space. It is thanks to the kindness and patience of our volunteers that our little protégés rediscover the joys of a loving home.
Beginning of May 2022
The operation continues with a new arrival of food in Ukraine, especially in the city of Kharkiv! Thanks to donations from our partner brands, Franklin and Lapsa, we continue to distribute food to the four-legged friends of Ukrainian families.

May 17, 2022
Two weeks later, the same convoy arrived in Kyiv and Poltava. Franklin and Japhy brand donations are again being distributed to families in need.

June 27, 2022
The YouCare Association finances the rental of a truck for the shipment of Anne-Charlotte and Mélody to the Polish border. They stopped at our premises where they collected dog and cat food as well as pest control collars and bowls. Direction the Polish border!
June 30, 2022
The convoy has arrived! The donations are deposited at the Polish border and are sent to Ukraine the next day.
July 1, 2022
Return to France: the two women did not make the return trip empty since they repatriated 17 animals from Ukraine (8 puppies, 3 dogs and 6 cats)!

More to come ♥
A big thank you to all those who support this great operation:
To the City of Levallois for helping us to organize the collection of donations locally and to the entire team at the City Hall for their daily support.
To the Mayor, Agnes Pottier-Dumas and her team of committed elected officials.
To Mrs. Sophie Deschiens, elected representative of the City of Levallois and special delegate of the Ile-De-France Region in the field of animal protection.
To the members of 1% For Animals who allow us to have the means to organize such an operation.
To our corporate partners who make extremely large donations so that we can send them to Ukrainian shelters.
To all the donors of our online kitty. Thanks to you, we have the means to continue this beautiful operation!
To the Ile-De-France Region which donated 10 000 € to our association to support this operation.
To our team of committed volunteers, to our great foster families who take care of the repatriated animals.
A huge thank you to the office team that organizes this whole operation:
Alexandra Moreau for the care of the animals and the sanitary follow-up.
Morgane Hécaen for organizing the logistics and shipping of the donations, as well as her daily help within the YouCare Association.
Marine Goblet for the management of the communication, the many messages and calls we receive daily to inform all those who contact us.
Nicolas Jungblut for the administrative and financial management.
This operation would also not have been possible without our partner associations. The association Les 3 Dindes guided by their President Lisa Fernandez who drove a semi-truck to Poland to deliver donations and repatriate animals. Theassociation AVA which participates in the expenses of sending the trucks and takes care of the veterinary expenses of the animals repatriated in the clinic of the Pont de Neuilly directed by Dr Bedossa.
To help financially this operation: https://www.helloasso.com/associations/association-youcare/collectes/ensemble-sauvons-des-vies-en-ukraine?fbclid=IwAR1L2urI7A7W 8ww diFTRxCONhUXkx9oCXYIuyjVJezyzAaJ-K7uVSjOas3c